Easel by TpT is a suite of time-saving tools to help you teach, engage, and assess learners on any device.
Digital Tools That Make Teaching Easier.
Easy-to-use tools to engage your students in class or online.

READY-TO-GO RESOURCES
Save time with ready-to-go resources.
There's no need to start from scratch. Use Easel to assign thousands of ready-made digital activities to your students.

MADE FOR EDUCATION
Easy-to-use for you and your students.
Every one of Easel's features — from one-click assign to self-checking quizzes — are designed to save you time and make your life easier.

AN ALL-IN-ONE SOLUTION
A tool for all your digital teaching needs.
With Easel by TpT, you can prepare digital lessons, assign interactive activities, and administer assessments, all from one place.

WORKS IN ANY SETTING
Flexible enough for any teaching situation.
Whether you're teaching in-person, remotely, or a little bit of both, Easel can seamlessly flex to fit your classroom's learning model.
Quickly learn the ins and outs
Check out this collection of bite-sized videos and quick reads to get a feel for Easel.

VIDEO
How a Middle School Teacher Models Assignments with Easel
Easel by TpT | Interactive, device-ready, digital tools to engage students
VIDEO

Get Started with Easel in Your Elementary Classroom (in Just Two Minutes!)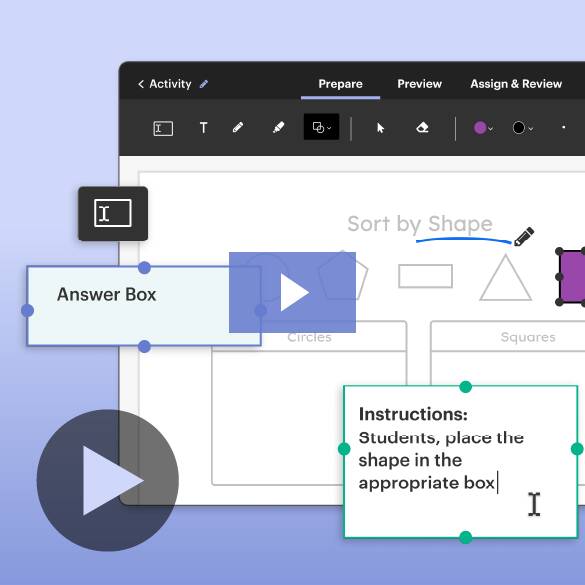 Easel by TpT | Interactive, device-ready, digital tools to engage students
REPORT Tips for Differentiating Instruction for Your Elementary Students Read More 
BLOG
Fun Ways to Teach Elementary Students in a Digital or Hybrid Classroom Read More